We have a wealth of experience handling motor vehicle and pedestrian accident cases including cases involving post traumatic stress, wrongful death, traumatic brain injuries, burns, fractures, injury to joints and cartilage, nerve entrapment injuries, neuromas, internal injuries, neck and back, exacerbation of pre-existing arthritis,  and soft tissue injuries.
We have handled many unsafe road and traffic engineering cases. ONE SUCH CASE BROUGHT AGAINST THE CITY OF ST. LOUIS RESULTED IN A $1.9 MILLION  VERDICT, A RECORD VERDICT AT THAT TIME FOR THE WRONGFUL DEATH OF A PERSON OVER THE AGE OF 70. (SEE PAST EXPERIENCES).  This case involved a dangerous intersection and the improper removal of a crosswalk with improper traffic signals in place.  This dangerous condition caused the death of a pedestrian.
ANOTHER TRAFFIC ENGINEERING CASE INVOLVED THE DANGEROUS I-270 ENTRANCE RAMPS IN NORTH ST. LOUIS COUNTY, AND WAS THE SUBJECT OF LOCAL TELEVISION COVERAGE ON FOX 2 NEWS. A judgment was entered against the Missouri Department of Transportation holding that a particular crossover ramp constitutes a dangerous condition. It is still in this same dangerous condition at the time of this publication.
IMPORTANT FACTS: IF YOU HAVE LIABILITY INSURANCE AND YOU OR A FAMILY MEMBER WHO LIVES WITH YOU ARE INJURED BY A HIT-AND-RUN VEHICLE OR A VEHICLE WITH NO (OR NOT ENOUGH) INSURANCE TO COVER YOUR LOSS, THERE MAY BE UNINSURED OR UNDERINSURED COVERAGE AVAILABLE. CONTACT US IMMEDIATELY.
If you are seriously injured in a motor vehicle accident or by a motor vehicle as a pedestrian, you have a claim unless the accident was entirely your fault. Fault is a determination of a jury and an experienced attorney can make an informed assessment of fault based upon the law and the facts. Even if the "at fault party" does not have insurance you still have a claim against your insurance carrier under a coverage called uninsured motorist coverage. Every liability policy issued in the State of Missouri must have a minimum of $25,000.00 of uninsured motorist coverage. If you are a passenger in a vehicle and both vehicles involved in the collision do not have insurance, your uninsured motorist coverage for your vehicle or the vehicle of a family member with whom you reside should provide this coverage. Sometimes these coverage's can be stacked and a legal opinion may be necessary to determine the amount of coverage available to you.
WHO IS REALLY AT FAULT?
Do you really understand who was at fault.  If you collide with a vehicle in an intersection while their light is green and your light is red, did you violate the traffic signal?  Answer:  Not necessarily true.  According to the law, if you entered the intersection while the light was yellow and it turned red and then the other vehicle quickly proceeded into the intersection on a green and hit you, it is their violation.  Why?  Because a vehicle which enters the intersection on a yellow light acted legally and has the right of way to clear the intersection.    The vehicle had to wait and yield to all vehicles legally within the intersection when their light turned green.  This is one of the most misunderstood rules of the road.  The other often misunderstood rule is that a vehicle traveling through an unmarked and unregulated intersection does not have the right of way over a left or right turning vehicle even if their road is a heavier traveled road.  The vehicle that arrives at the intersection first always has the right of way at an unregulated intersection.  This applies to parking lots, small side streets and major intersections during power outages when the lights are not operating.   Finally, Missouri has adopted comparative fault as the law of the land.  Even if you were partially at fault, if the other driver could have avoided the collision by acting as a very careful person would have acted, then the jury may assess fault against that driver as well.
In many cases the fault determination of the investigating police agency have been proven wrong. It is appropriate to obtain a free consultation if there is any doubt regarding who was at fault.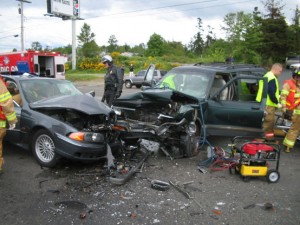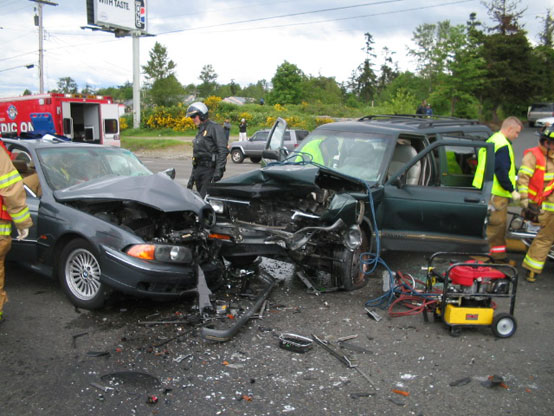 The obligation of every driver is to act as a very careful person would act under the same or similar circumstances. Common experience demonstrates that people do not always live up to this high standard. This is why the State of Missouri requires compulsory insurance. We do not usually pursue personal injury cases unless there is insurance available. If the "at fault" driver failed to comply with the insurance law, then uninsured motor vehicle coverage should be available if you or the operator of the vehicle in which you are seated has any motor vehicle liability coverage. The bottom line is that you should seek a free legal opinion on insurance coverage.
INSURANCE PREMIUMS
One of the most asked questions is "Will my insurance rates go up if I make a claim on my own policy." Missouri Department of Insurance regulations provide: "In no event shall an insurer request an increase in premium from any insured in connection with any claim arising out of any accident for which the insured was not at fault." 4CRS 190-17.100(3). Therefore claims under uninsured motorist provisions and underinsured motorist provision will not make your rates increase.
ROAD DEFECTS
If a defect in a vehicle or the road caused or contributed to cause an accident, you may have a case against the controlling governmental agency or vehicle manufacturer. We have handled claims where traffic control devices were not operating or were operating improperly and have obtained settlement and verdicts against governmental agencies for their negligence. We recently obtain a $1.9 million verdict in a wrongful death case against the driver of a truck and the City of St. Louis, for its dangerous design of a crosswalk. We have settled cases against vehicle manufacturers for defective seat belt designs with multi-million dollar total projected payouts.  We have obtained recoveries in cases for improper conduct during road repairs and construction against the road contractors.  We have obtained a substantial recovery against the City of St. Louis for placing a high curb median on one side of the intersection which closed a lane while maintaining the road on the opposite side in the same two lane condition.  This caused a fractured spine without nerve impairment.
WHO PAYS THE BILLS?  WHO PAYS FIRST?
Another area of common inquiry pertains to medical insurance and the payment of medical bills arising out of motor vehicle accidents. A complete assessment must be made of all types of insurance that you have available in order to properly advise our clients regarding the handling of such matters and the interplay between the insurance companies and your health insurance plan.  Our job is to maximize your recovery,  not the recovery of your health insurer.  DO NOT ALLOW YOUR HEALTH CARE PROFESSIONALS OR HOSPITALS BILL THE OTHER DRIVER'S INSURER.  MANY PEOPLE THINK IT IS FAIR AND PROPER FOR THE OTHER DRIVER'S INSURER TO PAY YOUR MEDICAL BILLS DIRECTLY.  THIS IS A MASSIVE ERROR IN JUDGMENT AND WILL LIKELY COST YOU SIGNIFICANT FUNDS IN SETTLEMENT OR JUDGEMENT.  HIRE US AND WE WILL EXPLAIN WHY AND PROTECT YOUR INTERESTS.