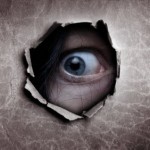 We handle Peeping Tom lawsuits. Don' let your privacy be invaded by sick voyeurs without striking back where it hurts.  We have abundant experience dealing with civil suits against these individuals and those businesses and persons who enabled the voyeurs.  You have a reasonable right of privacy under Missouri and Illinois law.  This applies in private, public and employment places. Corporations and businesses have an obligation to act reasonable to protect their customers and visitors from invasions of privacy.
In 2012 we took on an individual for inappropriate filming of women in private areas in a residence.
In 2011, we are taking on retail outlets for their failure to protect customers from Peeping Toms in the changing rooms. These retailers are negligent in their policies and procedures as well as in the design of the changing rooms. Premise owners must take action against known and unknown but foreseeable invasions of privacy in their restrooms and changing areas. We are preparing to launch a lawsuit against and other retailers for their hand in facilitating these privacy invasions.
If a retailer or other entity including private persons invade your privacy by voyeurism or recording devices in their business or home you may have a claim for invasion of privacy.
Some retailers fail to design changing areas in a manner to prevent voyeurs from seeing into private changing areas.  Retailers often fail to take reasonable measures to prevent known voyeurs from returning to their stores over and over again to continue their improper conduct. Often times these voyeurs  are known to photograph their victims and share these photos with other like minded voyeurs. Young people are valued targets to these individuals.  Retailers know or should know these things and take reasonable measures to prevent these invasions upon their invited customers.
Victims of such conduct often have lifetime scars and need treatment to help them cope with such a dreadful experience.
Click here to see FOX 2 Video.
These people are out there and are taking every opportunity to invade your privacy and your life.  See below links.