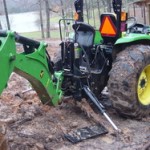 2012 Perry County, Missouri
SETTLEMENT:  $250,000.00 Settlement of a Case involving the Negligent Repair of Hydraulic Hose on a Tractor
ATTORNEYS:  ROBERT H. PEDROLI, JR. AND DANIEL J. GAUTHIER
PARTIES:  Plaintiff was a middle age male farmer, and Defendant was a Corporation that operated a hardware store in Perry County Missouri.
TYPE OF CLAIM:  Allegations were that the Plaintiff brought a frayed hydraulic hose from his tractor to the hardware store to replace it, but the hardware store agent said they could repair the hose so as to not have to worry about finding a similar replacement.  It was alleged that the hose was negligently repaired and it had a pinhole leak when it was placed in use immediately after repairs.  The repair process didn't remove the entire area of bad hose off and the connectors were re-installed over bad hose.
The leak caused a high-pressure stream of hydraulic fluid to enter the Plaintiff's thumb.  Hydraulic fluid injection injuries cause a significant amount of  tissue death from a toxic chemical response.  This is a known but not a well known phenomenon.
Defendant claimed the plaintiff understood the risks of the repair.  Plaintiff claimed the defendant was the purported expert and returned the hose to plaintiff as a good hose.  Plaintiff was charged and paid for the hydraulic hose repairs.
DAMAGES:   Plaintiff suffered loss of tissue on his thumb and hand, but the hand and thumb are still significantly functional.   The paid medical bills were approximately $30,000.00.
SETTLEMENT:  DEFENDANT'S INSURER PAID $250,000,00   PRESENT VALUE.
COMMENTS:  Hydraulic hose injection injuries are dangerous and becoming more known in the work force.  People don't understand the serous dangers of severe injury from a leaking hydraulic hose.  The injection of the fluid is deep and causes tissue death and infection.  It was alleged that the repairman apparently failed to understand these facts when he gave the hose back to the plaintiff.
See:  http://www.constructionequipment.com/hydraulic-injection-injury-insidious-potentially-devastating
http://www.fluidpowersafety.com/fpsi_alert-32.html
Call us if you are injured by a hydraulic fluid leak after you obtain immediate medical treatment.