Johnson and Johnson has know for years about the correlation between talcum powder and ovarian cancer when used by women for perineal hygiene.  When talcum powder is applied in the genital region, talc particles can move through the female reproductive system to the ovaries. These particles can remain in the ovaries for years and create an environment in which cancer cells can grow and proliferate.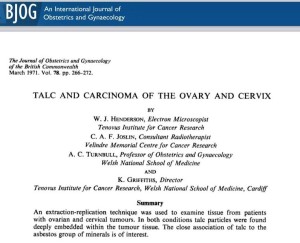 Now, a legal connection between talc and ovarian cancer has been found by a jury.
Suspicions about talc and ovarian cancer go to 1971, when British researchers analyzed 13 ovarian tumors under a microscope and found talc particles ''deeply embedded" in 10 of the ovarian tumors.
In 1982, the journal Cancer published as study demonstrating a statistical link between genital talc use and ovarian cancer.  Dr. Daniel Cramer, a gynecologist and Harvard Medical School professor, who was the lead author of the study was visited by a Johnson and Johnson scientist who tried to  convince him that talc use was a "harmless habit."  This was supported by a  document filed in court,   See the Fair Warning article published on April 29, 2016. http://www.fairwarning.org/2015/04/talc-and-ovarian-cancer/ – See more at: http://www.fairwarning.org/2015/04/talc-and-ovarian-cancer/#sthash.J3yExoFc.dpuf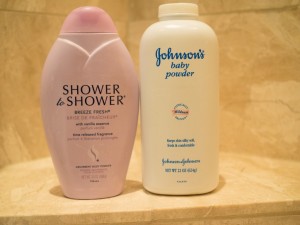 We are a law firm licensed in Missouri and Illinois.  If you or a loved one has contracted ovarian cancer and used talc powders for feminine hygiene, you can contact us to see if we can help.  If your family member has succumbed to ovarian cancer we may be able to help pursue a claim for wrongful death.  We will review cases all over the country and no matter how long ago the death occurred as some states allow extended times to pursue such claims based upon the discovery of the relationship of talc to the cause of death.
Contact us if you want our help.